Head Sail Furler Assembly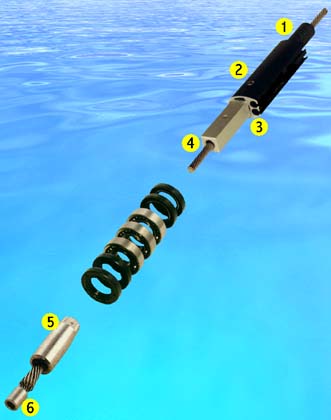 Silence Tube

There is a full length silence tube between spar connectors. No metal to metal contact.

Monel Rivets

Are used to fasten spar connectors. Simple, rugged.

Twin Grooves

The main spar has two large grooves to fit bolt rope sails. All models can incorporate the downloader.

Spar Connectors

Are machined on the sides to give precision fit, which give maximum torsional strength.

Rylock

Impossible to have crossed wires on assembly due to the button.

Button
SPECIFICATIONS
Stainless Steel
Halyard car
Maintenance
Bearings in main lower unit and halyard car are precision hardened and ground sealed in neoprene, which ensures a maintenance free system.
Positive Locking Pawl
Our system has a positive locking mechanical pawl. Like your primary winch. When you reef, drum is locked at every revolution, giving maximum sailing performance. Other furling systems, when reefed are continually moving, due to stretch of the reef line. Pawl is released by a simple lever (hyfield) at helmsman position. This feature is only available on "Reef Rite". With a normal furling system, a broken reef line means you suddenly have full sail.
Radial Adjustment
360° adjustment given to accurately align rope belt to the first rope guide.
Forestay Adjustment
All Models
Spares
Bearing and seals are available throughout the world.